Unboxing Lazada Box of Joy
To receive a parcel deliver straight to your home is something different feeling compare to shopping in the store.
I believe most of us will feel happy and excited when receive something you bought online.
Online shopping is getting more common in Malaysia, since it's more convenience and sometime cheaper compare to the store.
Reliability and product quality are important for us as an online shopper.
Despite the online revolution sale 11.11 had passed, there is another 12.12 sale coming soon.
Just before the 12.12 sales, I received this Box of Joy from
Lazada
.
It's my favourite pink colour box!!!
With their moto "Brands For All",
Lazada
offers wide range of product on their site including health and beauty, home and living, fashion, mobiles and tablets, consumer electronics, home appliances and etc.....
As I opened the box, I can find the thing I can eat and drink, thing I can use for my beauty, thing I can use in my kitchen and more and more.
I like this manual chopper from Tefal. It's going to be very convenience to prepare my ingredients in the kitchen. Chop everything in few seconds.
Check out more about Tefal product in Lazada
HERE
Besides the thing I can use in my kitchen, I have Nescafe Panda White coffee for my drink.
Yes, you can buy your groceries such as Nescafe coffee in Lazada!!!
Check out more groceries product in Lazada
HERE
I got something for my hair beauty from L'OREAL.
Check out more health & beauty product in Lazada
HERE
Did you try to buy something from
Lazada
before?? If not, just use the promo code below to get 20% off for your 1st order with
Lazada
.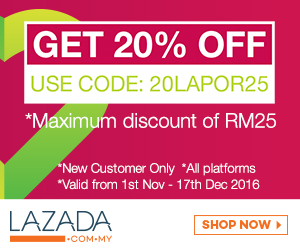 If you would like to participate in reviews like this in the future, please contact affiliate@lazada.com.my to join the Lazada Family!
Like my blog FB page :
https://www.facebook.com/mush4crazy